Altus Festival Announces Phase One Lineup for America's First Full-Package Music, Mountain + Adventure Experience, March 18-21 in Lake Tahoe, CA/NV
Featuring Bonobo, Sugarhill Gang with Grandmaster Melle Mel and Scorpio of the Furious Five, WhoMadeWho, Justin Martin, Behrouz, Mr. G, Atish, Ryan Crosson, Jason Kendig (aka Honey Soundsystem), No Regular Play, Jay Tripwire, Doc Martin, Doormen On Vacation (John Aquaviva, Roland Leesker & Phillipp Jung), Droog/Culprit, Mr. C, Clarian, Dance Spirit, Shaun Reeves, and More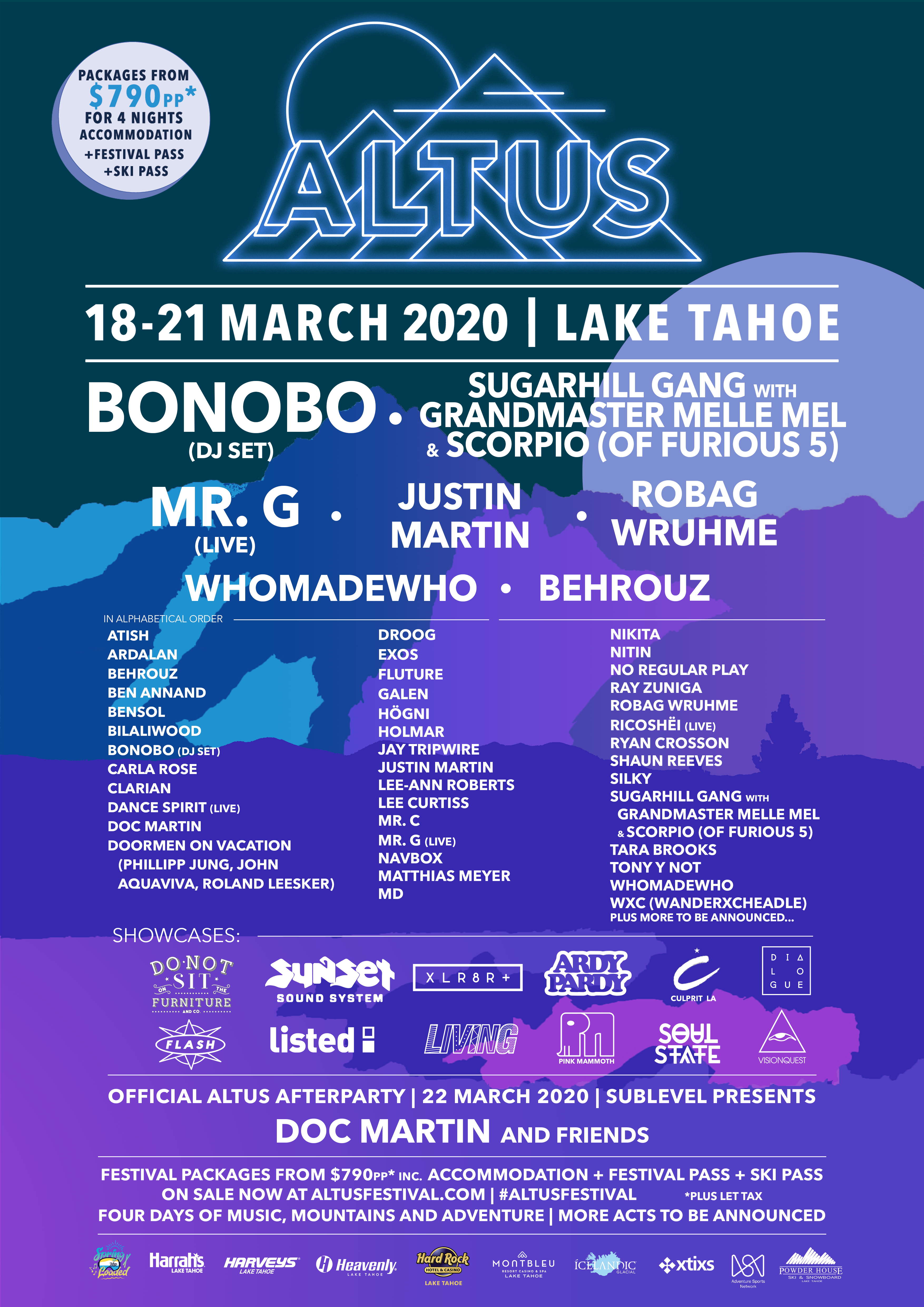 Exclusive Showcases from Ardy Party with Ardalan & Justin Martin, Visionquest, Sunset Sound System, Do Not Sit by Behrouz, Dialogue & XLR8R, Pink Mammoth, Listed + Flash, and More
First Release Packages On Sale Now with Exclusive Access to Secret Parties
There are few places around the world that define snowsport-entertainment quite like South Lake Tahoe. Sitting on the state-border, this idyllic winter destination offers unique Northern California vibes coupled with the gaming and party setting that Nevada is famous for. This spring will see the area's ski by day, party by night ethos further refined with the arrival of Altus Festival, a pinnacle event of Tahoe South's Spring Loaded campaign, March 18-21, 2020.
Today, Altus announced the first phase lineup for its debut alpine adventure. Altus Festival will be graced with performances and showcases from over fifty international house and techno savants, old-school hip hop icons, underground electronic up-and-comers, and globally renowned producers.
This year's electronic music programming will be headlined by the forward-thinking, downtempo stylings of industry juggernaut Bonobo and Copenhagen-based, genre-bending trio WhoMadeWho. Top-tier billing continues with a seasoned performance from Dirtybird favorite Justin Martin, a live set from Phoenix G label boss Mr. G, and Do Not Sit curator Behrouz, who will also be bringing his Do Not Sit on the Furniture event mountainside. Visionquest will also make their much-anticipated North American return at Altus.
The lineup extends further with melodic soundscapes from Atish, Berlin-London-Detroit techno hybrid Ryan Crosson, Honey Soundsystem aka Jason Kendig, West Coast house originator Doc Martin, and Crew Love Records duo No Regular Play.
Leading the charge of unique hip-hop performances will be genre founding icons The Sugarhill Gang, whose 1979 hit "Rapper's Delight" became the first rap single to grace the Top 40 on Billboard. They'll be joined by two founding members of the Furious Five, Grandmaster Melle Mel and Scorpio.
Altus Festival will also welcome a number of exclusive party showcases from some of the most widely recognized brands and collectives. Attendees will be treated to exclusively curated events like Ardy Party by Dirtybird brothers Justin Martin and Ardalan, psychedelic San Francisco staple Sunset Sound System lead by Galen, leading Burning Man collective Pink Mammoth, and Los Angeles-based label turned party selectors Culprit, among others. Additionally, guests will also have access to the official Altus afterparty: Sublevel presents Doc Martin & Friends on Sunday, 22 March.
Produced in partnership with Caesars Entertainment, MontBleu and Hard Rock Hotel and Casino, the event aims to create a new home for forward-thinking electronic music fans amongst the natural beauty and luxury accommodations that Tahoe is famous for. Festival packages, starting at $790 per person, offer music-fans a full Tahoe experience by including three-days of ski/snowboard passes and four nights of lodging at the iconic Harvey's, or Hard Rock, which are among Lake Tahoe's premier hotels, in addition to four days of music event access.
The only ski resort in North America to span across two states, Heavenly Mountain Resort allows skiers and riders to experience the best of both California and Nevada terrain on one epic mountain. Heavenly is Lake Tahoe's mountain playground that provides a social vacation of experiences that bring people together to find unexpected fun both on and off the mountain. This package is complete with four nights of lodging at the iconic Harvey's, or Hard Rock, which are among Lake Tahoe's premier hotels, in addition to four days of music event access.
VIP packages include fast track entry, priority access to table service, special discounts and VIP access to state-of-the-art speciality areas . Volunteer and ambassador opportunities are available at http://altusfestivaltahoe.com, and attendees will have access to an official limited merch collaboration with global dance party-wear brand A Line Called K. Additionally, Altus has partnered with Powder House to offer exclusive ski and snowboard rental deals to festival-goers, including 35% off rentals and 10% off select retail items.
Lineup A-Z
Atish
Ardalan
Artwork
Ben Annand
BenSol
Bilaliwood
Bonobo
Carla Rose
Clarian
Dance Spirit
Doc Martin
Doormen on Vacation (Phillipp Jung, John Aquaviva, Roland Leesker)
Droog
Exos
Fluture
Galen
Högni
Holmar
Jay Tripwire
Justin Martin
Lee Ann Roberts
Lee Curtis
Mr. G
Mr. C
Navbox
Matthias Meyer
Nikita
Nitin
No Regular Play
Ray Zuniga
Shaun Reeves
Silky
Sugarhill Gang with Grandmaster Melle Mel and Scorpio (from Furious 5)
Ricoshëi
Robag Wruhme
Ryan Crosson
Tara Brooks
Tony Y Not
Who Made Who
Showcases
Do Not Sit on the Furniture
Sunset Sound System
Ardy Pardy
Culprit
Dialogue
Flash
Listed
LIVING
Pink Mammoth
Soul State
Visionquest
XLR8R